Registering as a DirectLabs® Healthcare Provider
Create your secure online MyDLS®  account for providers by registering here. When registering, be sure to select the Healthcare Provider option as the member type. Once your HCP account is established, you will receive an email notification that the registration process is complete. Now you can start ordering.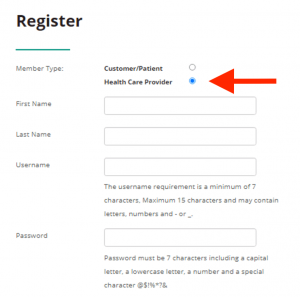 Billing Options
Bill Charges to Provider – We keep your credit card on file to pay for your patients' tests. You receive an additional discount of up to 20% off with this option.
Bill Charges to Patient – You place the order for your patient/client using their credit card and they pay website prices. Note: If this option is chosen, you must select "Both" for Results.
Results
Provider – Results will be uploaded to your HCP account.
Patient – Results will be released to the patient only.
Both – Results will be uploaded to both the patient and the HCP account.